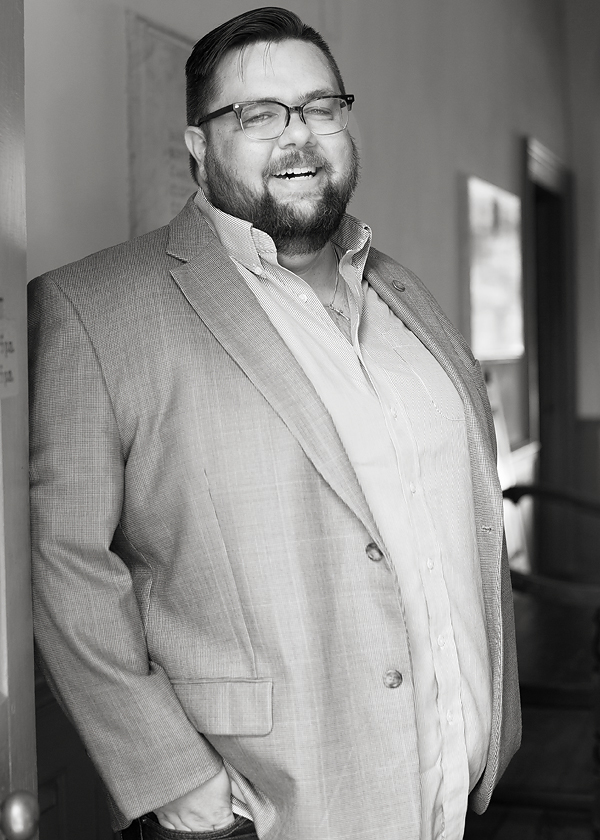 S. Carter McNeese
Pastor
Pastor Carter McNeese is originally from the Gulf Coast beaches of the Florida Panhandle. He originally came to North Carolina to attend college, but quickly fell in love with the "land of the pine."
After bouncing around some in his young adulthood, Pastor Carter found himself in Williamsburg, VA indulging his passion for history by working at Colonial Williamsburg as a costumed historical interpreter. It was while living in Williamsburg that he met his amazing wife Audrey, getting to know her across the table at their mutual friends' weekly table top gaming session.
While attending seminary in Richmond, Pastor Carter served Second Baptist Church of Petersburg, VA as Pastor for Children and Youth for over three years.
He and Audrey answered the new call God placed on their lives to come to Fairmont in September of 2018, arriving in town just days after Hurricane Florence blew through.
Pastor Carter is a WhoDat, a Demon Deacon, a Geek, a Whovian, a Browncoat, an emerging Trekkie, a member of the Rebel Alliance, and a music nut. He loves to read fiction (especially Fantasy and Sci-Fi), History, Biography, Theology, and Comic Books. He might own more books than he knows what to do with. He also strongly believes in the Oxford comma.
You can get in touch with Pastor Carter via email (s.carter.mcneese [at] gmail.com), on Twitter, Facebook, or at his personal website.


Rick Navarrette
Director of Music
Patricia Sealy
Church Secretary
Carolyn Floyd
Financial Secretary
Ned Bullock
Superintendent of Buildings and Grounds